Bounce House & Water Slide Rentals
You can check price and availability right here on our website
Just click on the "Check Availability" orange button at the top of this page
1. Select the date of your party 2. Select the start time of your party 3. Select the end time of your party
4. Start shopping on the site 5. Select the inflatable you like and add it to the cart
6.Enter your City / Zip and select continue
Pasco/North Hillsborough Counties leading inflatable rental company
Founded in 2011 in Tampa, Florida which is just south of Land O Lakes, fl. We are a family owned and operated Bounce House Rentals Company specializing in Bounce Houses, Water Slide Rentals, Dunk Tanks, Concessions and more. All of our Commercially made Bounce House and Water Slide rentals are designed for maximized fun and safety. Our commercial grade vinyl to the heavy duty stitching, safety nets which are placed around the bounce house so you can see the kids from almost any angle. Then there is a Bounce House entrance ramp to ensure soft entrance/exit with a safety net at the entrance to the Bounce House to stop kids from jumping and just falling out of the bounce house rental. We also carry a large selection of water slide rentals. ALL of our Water Slide rentals are made with commercial grade materials and are purchased from the leading water slide manufactuers. All of our Inflatable water slides have netting at the top of the water slide to ensure your peace of mind. All of our water slide and bounce house rentals are purchased, first, with safety in mind and second quality and asthetics.
Give us a call to Reserve your Bounce House rental. Call us at 813-765-JUMP(5867). Some of our Inflatable rental Pricing has changed so we can be more competitive in the North Hillsborough/Pasco county area. We strive to offer top notch service, high quality Bounce house rentals and water slide rentals at affordable pricing. If you have questions please contact us @ kangaroobouncersllc@gmail.com or 813-765-JUMP.
See What's New at Kangaroo Bouncers
Affordable Bounce House-Water Slide Rentals Tampa, Land O Lakes, Lutz, Odessa, Wesley Chapel and more...
This Month's Featured Products
Disney Bounce House Rentals

Being so close to Walt Disney World, it's only natural to carry a large selection of Disney Bounce Houses. We carry Frozen, World of Disney, Disney Princess, Mickey Park, Teenage Mutant Ninja Turtles, Hello Kitty, Spiderman and many more. Have you looked around for the FULL THEMED bounce House and not just another banner? Well then, check out our large selection of Full Themed bounce houses. All these bounce houses are a 15′x15′, not those tiny 13′x13′ units that the competition tries to hide from you for the same price.

This licensed World of Disney large jump pulls in the Disney magic to any backyard party or entertainment festival. The entire cast of characters is here, from Dumbo and Tigger to the Princesses and Pinocchio, not to mention Mickey and all of his closest friends. This jumper has a character for everyone, as kids get plenty of bouncing fun under the twinkling Disney stars with their favorite member of the world of Disney.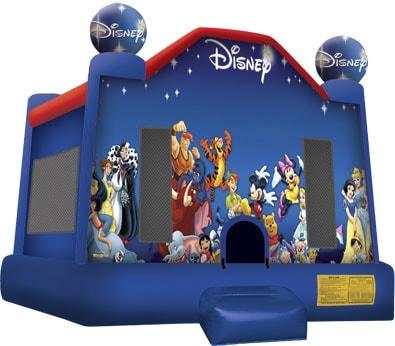 Water Slide Rentals
Are you having a graduation party, block party or just a weekend get together and want that WOW factor plus get the kids out of the house so you can enjoy some adult talk? Well you have found it! We have one of the LARGEST Water Slides in the Tampa-Land O Lakes area. How about a 28 foot tall 65 feet long dual lane water slide that stops into a pool of water? This water slide is huge and is call the Blue Crush! Almost 3 stories tall. This water slide is not for the faint at heart. Climb to the top of this water slide and look out. If your knees or stomach don't shake, then you are a true water slide enthusiast. Check out our other water slide rentals and wet combos also. We carry them from 14 foot all the way to 28 foot tall.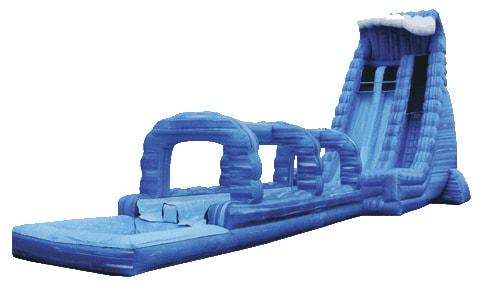 Customer Service Always Comes First
Here at Kangaroo Bouncers, we strive to be the best Bounce House rental and Water Slide Rental Company when it comes to service and selection. We are not like the other inflatable rental companies. Take a look at our reviews, inventory and pricing and you will see why. We put our focus on the safety and quality of our bounce houses and water slide rentals as well as our service, so that we can stand apart from the rest. We are also FULLY licensed and insured with a $1m dollar general liability coverage. Remember, the State of Florida DOES NOT mandate that a bounce house rental company or water slide rental company carry insurance. If you decide to go elsewhere, For your safety, ask to see a copy of their insurance. There are cheaper bounce house or water slide rentals, BUT, cheaper doesnt always mean better.... there usually is a reason. All of our Inflatables are cleaned and sanitized in between rentals to ensure a safety and to keep all our inflatables looking new.
Don't be embarrassed when your guests come to your event and the bounce house or water slide you ordered looks like it was ran thru the mud or badly faded . We service Tampa, Land O Lakes, Lutz, New Tampa, Carrollwood, Northdale, Citrus Park, Tampa, Zephyrhills, Odessa, Wesley Chapel, parts of Dade City, Trinity, New Port Richey and more. Call us to see if we service your area. Our rental times are for 6-8 hours, 6-8 hours is considered a full day. ALL our REPEAT customers get a 10% discount just to say Thank you for coming back and renting from us. Please look around our website and check out our Review and Testimonials. See what our customers are saying about us. Remember to check out our SPECIALS Tab for the latest discounts on your favorite bounce house rental and/or water slide rental. You can Book Online or just give us a call at 813-765-JUMP(5867). We also Have a Comapny In south Hillsborough County, Be sure to check out Big Lou's Bouncies if you are in south Hillsborough county.
We have AWESOME new Bounce House Rentals and water slide rentals every year! Stay tuned for our new inflatables coming in the next few months..STAY TUNED!